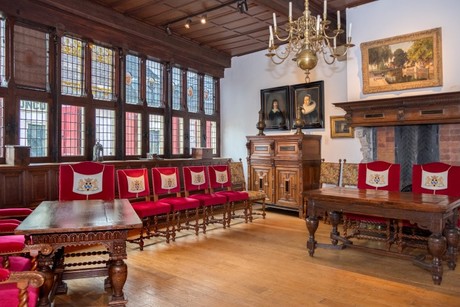 City council room
The crown jewel is the Vroedschapszaal with its historic furnishings and its oak panelling, dating back to 1610. Just imagine the members of the Vroedschap (i.e. town council) seated at the 17th century furniture by the open fire, talking about matters concerning the town council, while sipping wine that had been poured from the tin jugs, made in 1542, displayed above the entrance doors.
The old mayor's chest from 1611 is still there as well. Valuable town documents were stored there. For reasons of safety the chest had three locks, the keys of which several people had charge of.
Before you enter the Vroedschapszaal, you step into the Cabinet, which used to be the workroom of the council secretary. There you will find a number of drawings by Leo Gestel and some other pieces of art.

Covering the walls in the Vroedschapszaal are important paintings from the collection, like landscape paintings by Herman van Swanevelt, Cornelis Vreedenburgh and Victor Bauffe, as well as two works by Cornelis Springer and the old painting representing the Siege of Woerden in 1575/76.
Look here for a short video tour in the Vroedschapszaal by museum guide Ans Bierlaagh.