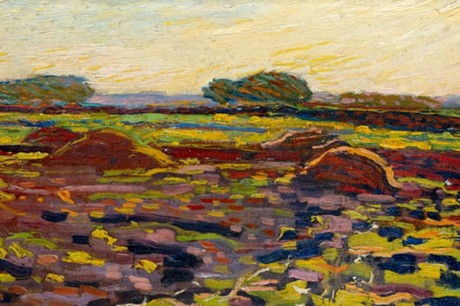 Leo Gestel
In the Stadsmuseum one room is solely dedicated to the Woerden born artist Leo Gestel. His father, Willem Gestel, was a house painter and decorator and also director of the Evening Drawing School. That is where Leo had his first drawing lessons. He also took classes at the Royal Academy for Visual Arts in Amsterdam.
Styles
Initially Leo worked in an impressionistic way, but after a trip to Paris he started to adopt a luministic style, followed by a divisionistic painting technique, with examples made around Woerden and Montfoort. During these years he belonged to the Dutch ultra-modern artists, together with Piet Mondriaan and Jan Sluijters. Later a flat-linear style with bright colours followed, as well as a cubistic style and the dark expressionism of the Bergen School.
Woerden as source of inspiration
Gestel travelled to Mallorca, Bavaria, Italy and other places and spent two years living in Flanders. Despite his many journeys abroad, he would never forget Woerden. During family visits the town and surrounding countryside remained a source of inspiration. All through his life these were a recurring theme in his drawings and paintings.
Leo Gestel room
In one of the style rooms in the Stadsmuseum you find a varied collection of drawings and paintings by Leo Gestel. These are landscapes from around Woerden, a view on the nearby Bonaventura church, a portrait of his sister and striking examples of cubism of his travel to Italy.
In addition the whole Gestel-collection of the museum is on view on a touchscreen.
Look here for a short video tour in the Leo Gestel room by curator Stephanie Rompa.