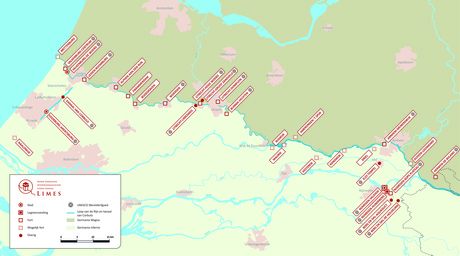 The Lower Germanic Limes
Woerden as part of an ancient Roman border
Two thousand years ago, the northern border of the Roman Empire – the limes – cut straight through the Netherlands, alongside the river Rhine. To defend this frontier, the Romans built watchtowers, roads and army camps. These structures also facilitated transport and trade over the river. Additionally, the limes was an important axis for the exchange of knowledge and culture. The limes is the largest archaeological monument of the Netherlands and has recently obtained the status of UNSECO World Heritage.  
Woerden plays a part in this story. In the year 40, where the current city center is located, the Romans built a fortress: castellum Laurium. For two centuries, soldiers were stationed here in order to protect the limes. In its heyday the fortress contained about 500 soldiers! Soon after its construction, artisants and merchants settled around the castellum to trade with the Romans.
Archaeological finds  
The Dutch ground water levels have always been relatively high and the soil is quite wet. Therefore the Roman remains in our country have been better preserved than in any other European country. Naturally, many special objects have been found, such as bones and seeds, and vulnerable objects made of wood, metal or leather. These include tools, weapons and jewellery. Such objects provide unique insights into the daily life along the border.
The Roman collection of the Stadsmuseum Woerden contains some of these brilliant objects. Get up close with our top pieces, including a parade helmet, an asparagus knife, a bronze oil lamp and a brooch shaped like a frog.
In Car Park Castellum, you will even find the unique 'drive-in museum' on the -1 floor, including part of the Roman ship 'the Woerden 7' found here.
Want to know more about t'he Roman limes?
Have a look at this website or watch this short video about the limes in the Netherlands (subtitles in English).
Regional activities
This webpage provides some tips for nice activities in the region of Woerden and Utrecht. For example, you can discover the remains and reconstructions of castellum Hoge Woerd (De Meern), castellum Traiectum (DOMUnder, Utrecht) and castellum Fectio (Bunnik). Or pay a visit to Museum Park Archeon in Alphen aan den Rijn, where Dutch history is brought to life.