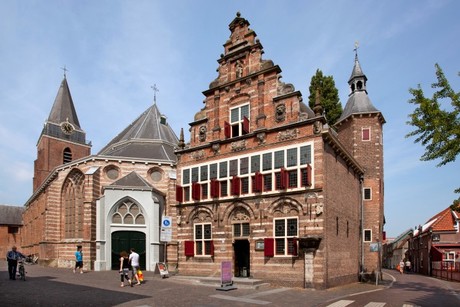 Opening times and prices
Stadsmuseum Woerden
Kerkplein 6
3441 BG Woerden
Telephone: +31 (0) 348 431 008
 
We recommend checking the current opening hours on this website shortly before your visit.
Opening hours
Tuesday to Saturday: 11.00-17.00 hrs
Sunday: 13.00-17.00 hrs
Monday: closed
The museum is closed on Easter Sunday, Easter Monday, King's Day (usually 27th April), Woerden Cow Market-day (first Wednesday after 20. October), Christmas Day and New Year's Day.
And in the week before opening a new exhibition. This is the case for 17. to 21. October.

The museum is open on Ascension Day, Pentecost (both Sunday and Monday) and Boxing Day, from 13.00-17.00 hrs.
The whole museum is closed Monday to Friday in the week preceding the opening of a subsequent exhibition. 
All corona restrictions have been dropped. Making a reservations is possible, but not mandatory. Feel free to wear a face mask and please allow each other space.
 
Prices
Adults (including 65+): € 6,00
Reduced rate: € 3,00
Children/youth under 18: free
Dutch Museum Card and ICOM Card: free
To keep the City Museum accessible to those on a small budget, we offer FREE admission every Wednesday between 15-17 hours!
Accessibility
Only the ground floor of the museum is accessible for wheelchairs. Personal service dogs are allowed in the museum, however other dogs are prohibited. Unfortunately we do not have a toilet for disabled guests.