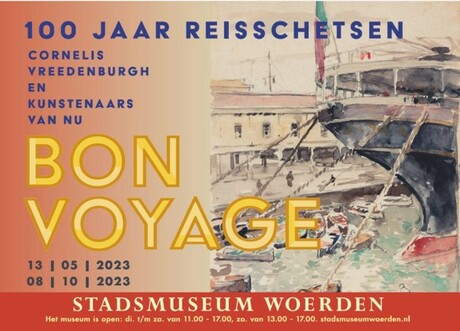 BON VOYAGE - 100 years of travel sketching of Cornelis Vreedenburgh and 3 contemporary artist
Saturday May 13th 2023 t/m Sunday October 8th 2023
In the summer of 2023, we will take you on vacations of the past and of today. We tell the story of the travels of Woerden-born painter Cornelis Vreedenburgh (1880-1947) and look at travel drawings by contemporary artists. This exhibition is composed of works from our own collection and loans from the Rijksmuseum, among others.
Cornelis Vreedenbrugh (1880-1946)
Like many artists of his time, Vreedenburgh enjoyed traveling abroad. Mainly to gain inspiration and to develop himself further. Starting in 1910 he went to Provence, Saint-Tropez, Paris, Switzerland, Italy and Portugal, drawing southern landscapes and picturesque villages. In 1936, he travels to Palestine to paint and write for Panorama magazine. During a long, hot trip, he drew beautiful, sun-soaked landscapes and the small streets and inhabitants of Jerusalem.
Cars and planes
Vreedenburgh's travel sketches show his talent for drawing, but also give a wonderful impression of his time. On the Mediterranean coast he sees the first cars and airplanes, but he also draws the beautiful, traditional clothing of people from the Middle East. Vacationing in Vreedenburgh's time is not yet a given, and traveling is sometimes quite a challenge. One wonders what he encountered. How are today's vacations different from those of the past? 
Smartphones
Travel pictures are not just a thing of the past. Even in our age of smartphone photos, there are artists who take the time to draw on their travels like example, Peti Buchel, Anne Jitske Salverda and Gineke Zikken. But what is the value of travel sketches when you can take a picture much faster and easier? 

Peti Buchel (1946) is known for her cartoons and graphic journalism. Anne Jitske Salverda (1956) paints landscapes and always works outdoors. Gineke Zikken (1959) also finds her subjects in the landscape, but for her this does not only include nature. Industrial areas, sheds and bridges also provide inspiration.
Activities
To accompany this summer exhibition, the museum is  organizing a number of activities such as guided tours and children's workshops. The free tours are on the 1st and 3rd Sundays of the month and the 2nd and 4th Thursdays of the month at 2 p.m. Look for more information in the calendar
This exhibition is made possible by VSB Fonds Woerden, Cultureel Platform Woerden, foundation Zabawas, foundation VVNK, foundation Gifted Art and Vrienden van het Stadsmuseum Woerden.