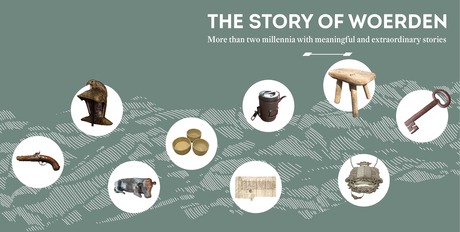 Story of Woerden - the exhibition
Friday July 7th 2023 t/m Saturday January 1st 2028
You are most welcome to visit our brand new and permanent exhibition: the 'Story of Woerden'. Here you can discover what exactly defines Woerden. We will guide you through the multifaceted history of the city and its surroundings, comprising more than 2000 years of fascinating tales.
The exhibition allows you to travel through time by the means of nine themes. Each theme is linked to a character that can hardly wait to tell you their story. For example, you will meet painter Cornelis Vreedenburgh, miller's wife Mabelia and the Moluccan aunt Jo. They are your gateway to another time. This is not only the history of Woerden, but also that of surrounding villages such as Harmelen, Zegveld and Kamerik.
The Story of Woerden shows you how a military camp evolves to a fortified city and eventually becomes a modern municipality. How the city often has a key position because of her location, alongside the Rhine and on the border between two powerful provinces. How the people of Woerden have not only fought for their religion and freedom, but also against the water. How people from various backgrounds have been migrating to Woerden for centuries, bringing color to the city.
Above all, this is a story that includes you, because you give meaning to the city and its surroundings as well. Will we see you there?